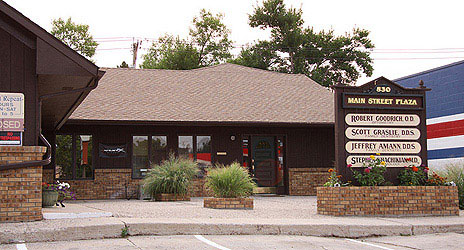 Patient Information
Welcome and thank you for visiting our website. We hope you find this site easy to navigate and that the material found within it is informative yet easy to understand. Whether you have simply sought us out on your own or been recommended to us by a friend or family member, we welcome and appreciate the opportunity to serve you. We want each and every visit to our office to be a relaxing and comfortable experience for you. We take great pride in providing you with the best possible care. You can expect one of two appointments to take place the first time you come to our clinic.
If you are experiencing any dental pain or discomfort, the doctor will do his very best to come up with an accurate diagnosis and render the necessary treatment to alleviate your pain and discomfort. If the treatment needed is outside our scope of care, we will then refer you to the appropriate specialist.
If you are NOT experiencing any dental related pain and wish to become an established patient of record, your first visit to our office will consist of an appointment with the doctor for a comprehensive dental examination and any necessary dental X-rays. The doctor will then review treatment options with you and together both of you will decide the course of your dental care. You will then be scheduled back into our clinic so the agreed upon treatment can be completed.
We would ask that you arrive at least fifteen minutes prior to the beginning of your first dental appointment to fill out any necessary paperwork. In order for us to better assist you, we ask that you bring the following to your first appointment...
A current list of all medications your are taking along with dosages
If you have dental insurance, please bring along originals or copies of any pertinent cards or information that you may have
If you are transferring from another dental clinic, if possible, please bring along a copy of your dental record along with any recent X-rays that may have been taken
Please note: all patients under 18 years of age must be accompanied by a parent or guardian especially at their initial visit.
After all the paperwork is completed, you will then be taken from the waiting room area into our clinic. At this time you will have the opportunity to meet with the doctor to discuss any and all concerns that you may have. Specific medical conditions you will most certainly want to inform your doctor of include any and all heart ailments or surgeries, prosthetic joints, diabetes, hypertension, organ transplants, infectious diseases or antibiotic premedications. If your dental treatment is complex in nature, you may be scheduled back for a treatment planning appointment to discuss the details regarding your dental care. We are required by federal and state law to maintain the privacy of your health information and this is something we take very seriously. You will receive a copy of our privacy policy. After the initial appointment, you will then be taken back to our front office area and be scheduled for any treatment. For your convenience we accept cash, check, CareCredit and all major credit cards. As a courtesy, we will file and handle all of your dental insurance claims. If you have any questions regarding your treatment or the choice of your payment options, please do not hesitate to ask. We are here to help you get the dental care you want or need. Thank you for considering us and we hope to see you soon.